"Tag dig tid" (Take Your Time) | Who are we at Byaas?
Byaasgaard is run by Signe and Kenneth.
We took over Byaasgaard on 1 January 2020 and live here with our two children - Sonja and Eigil at 5 and 8 years.
We have moved from Copenhagen's northwest quarter to Hundested to pursue a common dream of having our own - and jump into something completely new!
Once Danish TV "TV2 Lorry" did a little story about us. There is a small video that you can watch here: From big city to campsite
Signe is originally a trained social worker and has a Master in Social Entrepreneurship. For 8 years she has worked as a department manager and project manager at an institution for the homeless.
Kenneth holds a Diploma in Management and is originally an educator. He has 10 years of management experience in the social field.
Together we are very practical and can do many things ourselves, at the same time as we know it is important to be service-minded and then we have a social perspective and emphasize taking social responsibility in society.
"Tag dig tid" |"Take Your Time"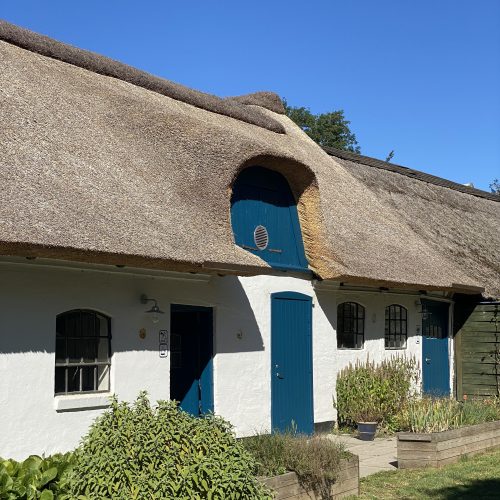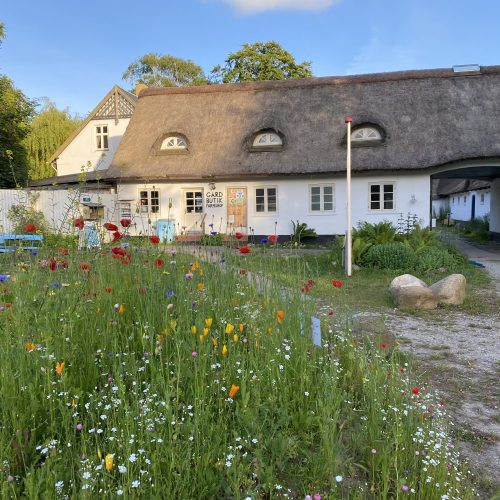 We work with sustainable solutions because we can't help it! For us, it is the only right way to go. With the many guests we have past Byaasgaard during the season, we also want our initiatives to be visible so that they can inspire good solutions that our guests can take home or to work.
When we work with sustainability, we split the concept into a climatic, a social, a cultural and an economic aspect. Of these, we currently work mainly with the climate and of course the economic, which makes it all work together. 
We use the UN's world goals as a guideline and have selected four goals that we focus on in particular. See a selection of our initiatives here: 
We buy to a large extent locally and organically

We do not use disposable plastic

We tell our guests about our sustainable initiatives and how they can contribute
We do not use pesticides

We use Nordic Ecolabelled cleaning products 

We use water savers in all baths, toilets and sinks
We only buy electricity from wind turbines

We have replaced wood pellet stoves with heat pumps

We buy white goods with an energy label and use only LED bulbs
We plant Byaasgaard in order to create more biodiversity


We take care of nature, to preserve the original

We convert food waste into organic material
In the long term, we have big dreams of working more purposefully with social sustainability by creating a working community at Byaasgaard that can offer work to people who have difficulty finding a foothold in the labor market.
Byaasgaard Farm Shop & Camping is located as part of the nature area Kongernes Nordsjælland between Hundested and Frederiksværk with a 600 m coastline.
The farm Byaasgaard can be traced back to the 18th century and has from the beginning been an agricultural property with animals, horticulture and fields.
In 1964, the campsite was established, this was before camping had become really hip. Byaasgaard Farm Shop & Camping is therefore a farm with a long history that we cherish very much.