Camping - Farm Shop - Eatery
Byaasgaard is Nordic holiday
with all its imperfection and warmth of heart
Cabins, Chickens and Sheep // luxury tents and old-fashioned tent camping​
right at the water's edge
#tagdigtid aka. #takeyourtime
Byaasgaard is a farm with Camping, Eatery, Agriculture & Farm Shop - right next to the fjord
Ferie/ Camping/ Bådbro/ Får/ Høns/ Mikrolandbrug
Byaasgaard er drevet efter
økologiske og bæredygtige
principper 
#tagdigtid aka. #takeyourtime
In The Farm Shop you will find both our own & many local foods
The Farm Shop has homemade rye bread, own eggs & breakfast plate
We are located in scenic surroundings and right down to the water/fjord, with own jetty
Byaasgaard is a sustainable holiday where climate, environmentally and socially responsible camping are in focus
"Tag dig tid" |"Take Your Time"
Byaasgaard is a family business, run by Signe and Kenneth.
We took over Byaasgaard in 2020 and live here with our two children – Sonja and Eigil aged 5 and 8
We have moved from Copenhagen's northwest quarter to Hundested to pursue a common dream of having our own - and jump into something completely new!
Once Danish TV "TV2 Lorry" did a little story about us. There is a small video that you can watch here: From big city to campsite
"Tag dig tid" |"Take Your Time"
Green camping north of Copenhagen
At Byaasgaard, we aim to use the most sustainable solutions when we develop our company.
We want to minimize our climate footprint and thus create the opportunity for our guests to have a climate-friendly holiday at Byaasgaard.
We do the development step by step, and do you ever reach the goal? But we work purposefully based on these four world goals.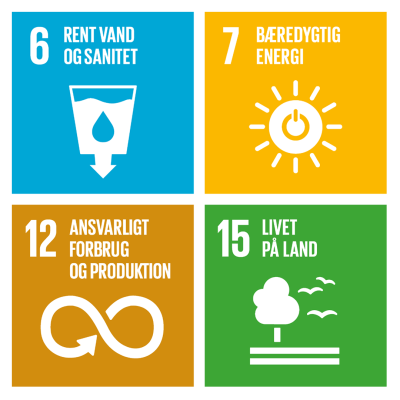 During the summer, we host open events - such as concerts and communal meals - for the whole of Halsnæs and the surrounding area.
With us are, campers, residents from the local area and country people welcome.
Follow us @ Facebook to follow our events